2023-2024 Membership Calendar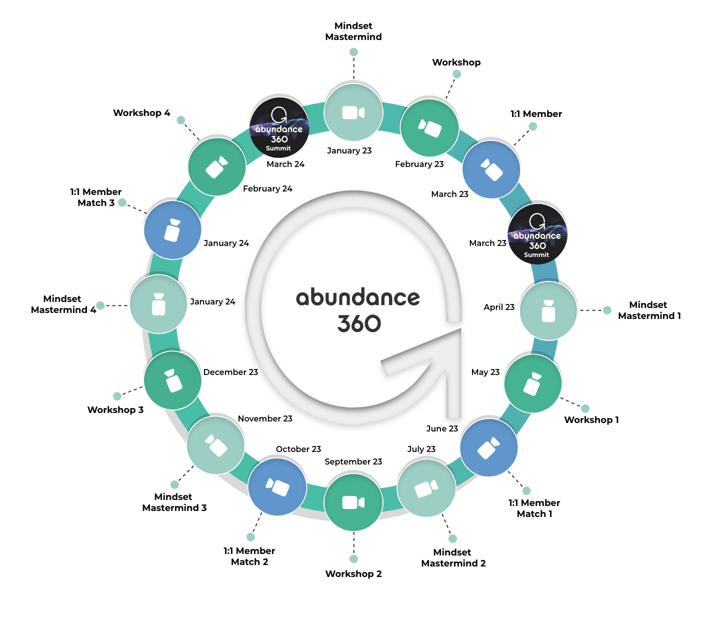 What's the difference between Workshops, Masterminds, and The Abundance360 Summit?
Workshops:

Also known as Implementation Workshops, these virtual (on zoom), Peter-led experiences offer a curriculum of the latest Mindsets, tools, and insights as well as breakout sessions to discuss the topics further with fellow members.


Masterminds:

Also known as Mindset Masterminds, these virtual (on zoom), peer-led discussions allow you to go deep with fellow members, learn about each other's lives & business, and form mutual support networks to develop the Mindsets together.


The Abundance360 Summit:

Also known as The Summit, this is our annual event, live from Terranea Resort, that Peter personally hosts and curates. We bring in world-class speakers to share their latest insights in technology, science, business, and more!

1:1 Member Matching: Quarterly 1:1 Zoom conversations with other A360 Members via AI Matching. These are in addition to dinner at the Summit with your top 10 member matches for in-person members.
---
SCHEDULE
MINDSET MASTERMIND
|

JANUARY 2023
Patron: Wednesday, 1/11: 8:00am - 9:00am PT
Session 1: Thursday, 1/12: 8:00am - 9:00am PT
Session 2: Thursday, 1/12: 4:00am - 5:00pm PT
IMPLEMENTATION WORKSHOP
|

FEBRUARY 2023
Patron: Tuesday, 2/7: 9:00am - Noon PT
Session 1: Wednesday, 2/8: 8:00am - 10:30am PT
Session 2: Wednesday, 2/8: 3:00pm - 5:30pm PT
ABUNDANCE360 SUMMIT
|

MARCH 2023
Patron Day: March 19, 9:00am - 7:00pm
Tech Hub Opening Reception for All: March 19, 7:00pm - 10:00pm
A360 Program:
- March 20, 8:00am - 10:00pm
- March 21, 8:00am - 10:00pm
- March 22, 8:00am - 9:00pm
- March 23, 8:00am - 12:30pm, followed by lunch
MINDSET MASTERMIND
|

APRIL 2023
Session 1: Thursday, 4/20: 8:00am - 9:00am PT
Session 2: Thursday, 4/20: 4:00pm - 5:00pm PT
IMPLEMENTATION WORKSHOP
|

MAY 2023
Session 1: Tuesday, 5/23: 8:00am - 12:00pm PT
Session 2: Wednesday, 5/24: 3:00pm - 7:00pm PT
MEMBER MATCHING CONVERSATIONS
|

JUNE 2023
Thursday, 6/1: Your 1:1 scheduled time, or
Friday, 6/2: Your 1:1 scheduled time
MINDSET MASTERMIND
|

JULY 2023
Session 1: Thursday, 7/13: 8:00am - 9:00am PT
Session 2: Thursday, 7/13: 4:00pm - 5:00pm PT
IMPLEMENTATION WORKSHOP
|

SEPTEMBER 2023
Patron: Tuesday, 9/19: 9:00am - Noon PT
Session 1: Wednesday, 9/20: 8:00am - 10:30am PT
Session 2: Thursday, 9/21: 3:00pm - 5:30pm PT
MEMBER MATCHING CONVERSATIONS
|

OCTOBER 2023
Thursday, 10/5 - Your 1:1 scheduled time, or
Friday, 10/5: Your 1:1 scheduled time
MINDSET MASTERMIND
|

NOVEMBER 2023
Session 1: Thursday, 11/9: 8:00am - 9:00am PT
Session 2: Thursday, 11/9: 4:00pm - 5:00pm PT
IMPLEMENTATION WORKSHOP
|

DECEMBER 2023
Patron: Tuesday, 12/12: 9:00am - Noon PT
Session 1: Thursday, 12/14: 8:00am - 10:30am PT
Session 2: Thursday, 12/14: 3:00pm - 5:30pm PT
MINDSET MASTERMIND | JANUARY 2024
Session 1: Thursday, 1/11: 8:00am - 9:00am PT
Session 2: Thursday, 1/11 4:00pm - 5:00pm PT
MEMBER MATCHING CONVERSATIONS | JANUARY 2024
Thursday, 1/25: Your 1:1 scheduled time, or
Friday, 1/26: Your 1:1 scheduled time
IMPLEMENTATION WORKSHOP | FEBRUARY 2024
Session 1: Wednesday, 2/28: 8:00am - 10:30am PT
Session 2: Thursday, 2/29: 3:00pm - 5:30pm PT
ABUNDANCE360 SUMMIT | MARCH 2024
Patron Day: March 17, 9:00am - 7:00pm
Tech Hub Opening Reception for All: March 17, 7:00pm - 10:00pm
A360 Program:
- March 18, 8:00am - 10:00pm
- March 19, 8:00am - 10:00pm
- March 20, 8:00am - 9:00pm
- March 21, 8:00am - 12:30pm, followed by lunch